Have you ever experienced an in-depth analysis that reveals the actual state of your skin's health? MD Skin Lab presents Visia Skin Analysis, a state-of-the-art device crafted to assess the health of your skin. The built-in camera thoroughly analyzes the skin at multiple layers and depths for pores, wrinkles, fine lines, sun damage, skin bacteria, texture and pigmentation. With comprehensive feedback and personalized treatment plans, the Visia Skin Analysis empowers patients to make informed decisions about their skincare. Let's get into the specifics!
Visia Skin Analysis Explained
What is the Visia Skin Analysis?
The Visia Skin Analysis monitors and compares changes in the skin's condition. By tracking progress over time, this analysis aids in determining the most beneficial services tailored to individual skin requirements. Unveiling hidden factors like UV damage and acne-causing bacteria, the Visia Skin Analysis reveals what the naked eye can't see, allowing us to formulate an optimal skincare and treatment plan for a desired outcome.
How Does a Visia Skin Analysis Work?
The device will capture close-up and detailed images of your skin while the patient keeps their eyes closed and remains still. Multiple angles of the face will be photographed. After Visia processes the results of your skin, an aesthetician explains the breakdown and determines what treatment plan is best for your skin based on your needs.
Who Is It For And Am I A Candidate?
The Visia is for anyone interested in learning more about their skin.

Nearly every individual interested in learning about the health of their skin can find benefits with Visia. Notably, the skin analysis would serve well for candidates experiencing skin conditions such as hyperpigmentation, sun damage, aging skin or acne scars. Visia is an excellent technological tool that can help monitor your skin's progression.
What Information Does Visia Provide Me With?
Visia will take snapshots of your entire face, center and from left to right, and the information it will capture includes:


UV Spots
Wrinkles
Texture
Pores
Brown Spots
Red Areas
Skin Bacteria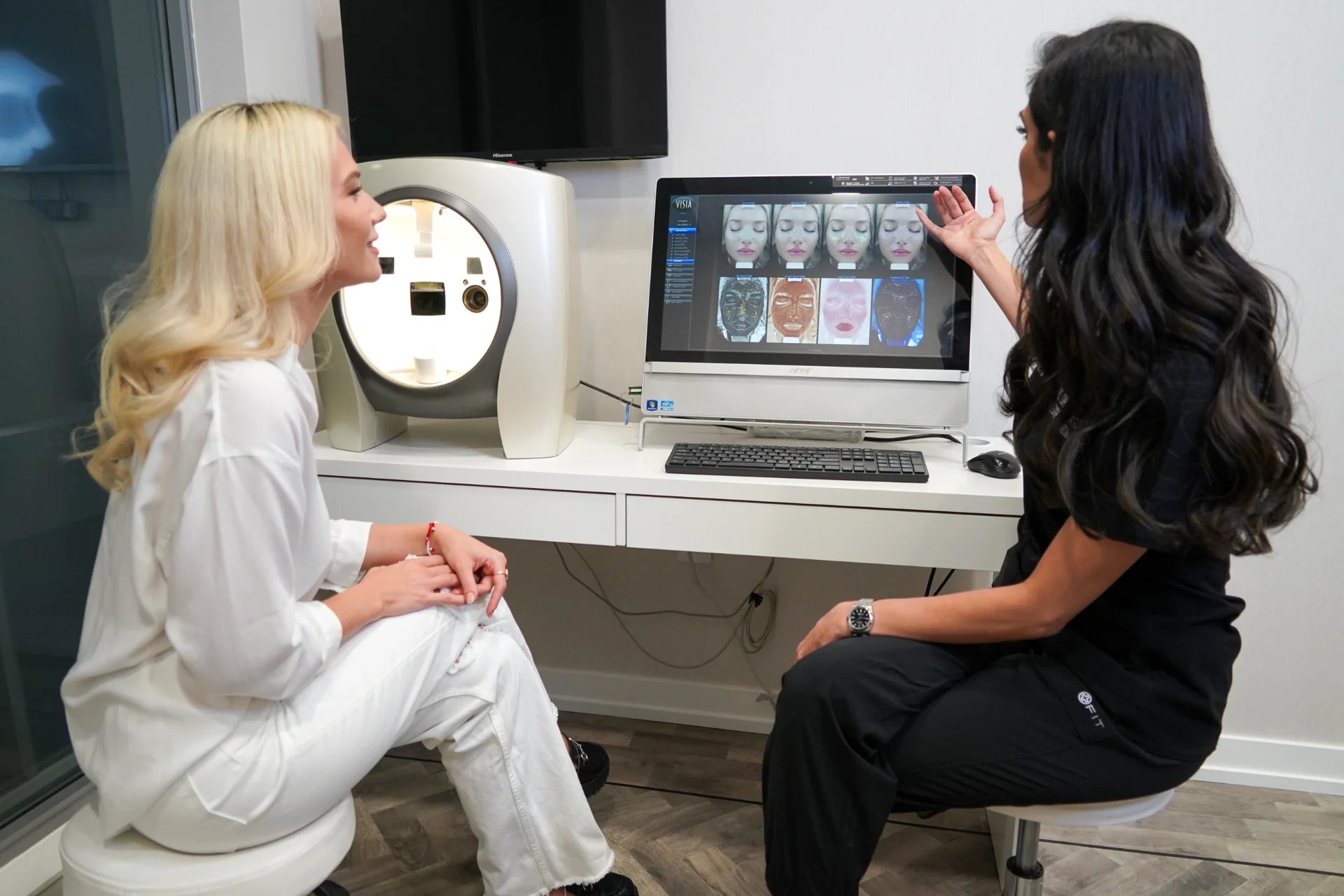 How Can The Visia Skin Analysis Help With My Treatment Plan?
The device will document your skin concerns once the Visia Skin Analysis is completed. The information will serve as a baseline for your skin treatment plan. As you undergo your treatment plan, these photos can be used to monitor your progression.
What Does The Visia Skin Analysis Do?
Visia can capture high-resolution images of the skin in detail, which will work as a foundation to help you find the correct skin treatment. In the facial area, Visia Skin Analysis can highlight several areas, such as around the eyes, cheeks, forehead, nose, mouth and chin
Is Visia Skin Analysis Safe?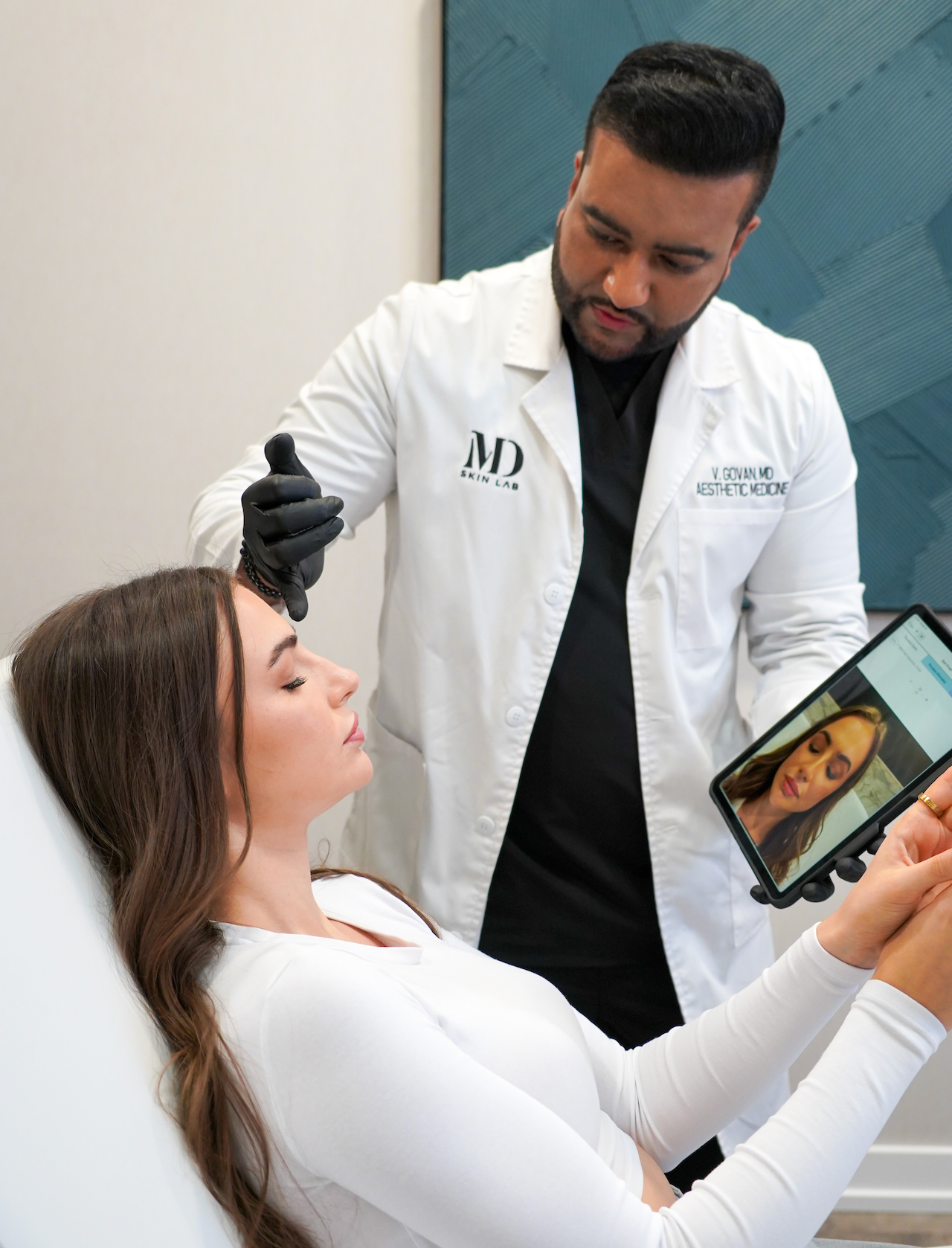 Yes, the Mesogold Facial is safe when administered by our trained aestheticians.
What Will Occur During A Visia Skin Analysis?
Our aesthetician will greet you once you arrive at MD Skin Lab in Toronto. You will then be taken to the consultation room, where the appointment will occur. We will first discuss your skin and medical history. Once we thoroughly understand your concerns, the quick and comfortable process for Visia Skin Analysis will take place. After Visia processes the results of your skin, our aesthetician will explain the result, followed by the recommended treatment and skincare. It's important to note that before beginning the analysis, your skin must be clean and dry; makeup must also be removed.
How Long Will A Visia Skin Analysis Appointment Take?
Your skin care consultation with the Visia Skin Analysis will take about 30 minutes.
What Does Visia Skin Analysis Feel Like?
You will not feel anything during the process – think of it as having your picture taken. There is no pain or discomfort associated with the analysis.
What Can I Expect After The Analysis?
After the photographing process of Visia Skin Analysis has been completed, detailed results will be showcased to you, and they will provide a strong starting point of where your skin's health currently stands. Using the data as a foundation, your aesthetician will elaborate on each result and recommend a skin treatment plan targeting specific skin issues.
When Will I See the Results And How Long Do They Last?
The analytics from Visia Skin Analysis will be seen within a few minutes after completion. Your aesthetician will explain the results and recommend a treatment plan accordingly.
Will I Experience Any Side Effects?
There are no side effects with Visia Skin Analysis.
How Much Does A Visia Skin Analysis Cost? Is Financing Available?
Please take a look at our service fees for more information. Buy now, pay later with do Finance. Get affordable financing in 3-easy steps for any elective care procedures you would like done. Visit www.dofinance.ca for more information.