What it PRP Hair Restoration?
PRP (Platelet Rich Plasma) is a cosmetic procedure that uses your own blood platelets to rejuvenate the skin and stimulate collagen production. This technique has been used in sports medicine for over 50 years to regenerate injured tissue. Most recently it has been found that the growth factors in PRP have an application in anti-aging medicine as well.

PRP Hair Restoration involves using the growth factors and proteins in your blood plasma to help thicken and regrow hair. Studies have shown that a series of PRP sessions can stop and even reverse the process of hair loss for both men and women.

Doctors typically use this treatment to address the shrinking of hair follicles and hair loss associated with androgenetic alopecia (male pattern baldness). Many women have found this treatment helpful as well, improving hair density, fullness and ability to style their hair as desired.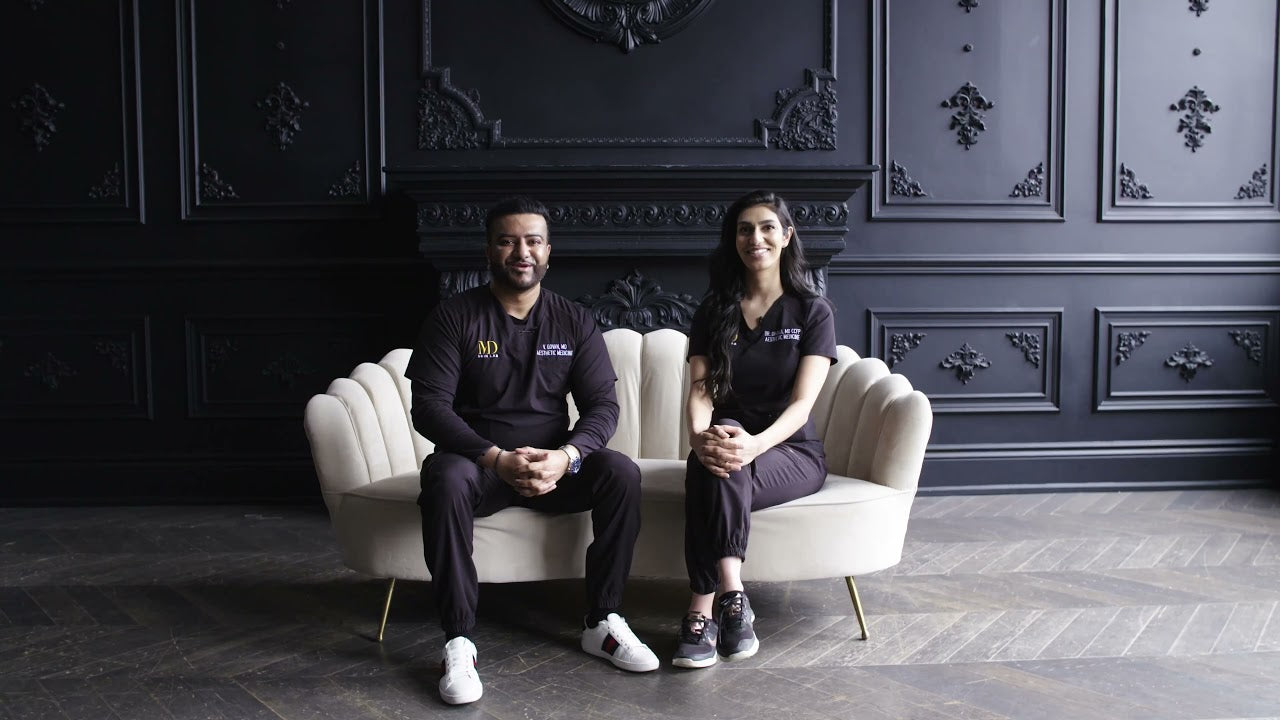 How does PRP Hair Restoration work?
PRP therapy for hair loss is the same process as for cosmetic application. The first step is to draw your blood and process it in a centrifuge to separate the blood into different components — red blood cells, white blood cells, and platelet-rich plasma.

Next, your doctor will inject the PRP into the treatment areas of your scalp. Microneedling may be performed during the same session to stimulate the hair follicles.
Frequently Asked Questions
Below are some common questions from our clients, if you have any other questions, please fill out the form below or send us an email at hello@mdskinlab.ca.
What kind of results can I expect with PRP Hair Restoration?
As long as you have some active hair follicles, you should see improvement in hair density and fullness 4-6 months after your initial treatment. Depending on your specific case, your physician may recommend 4-6 sessions a month apart followed by subsequent treatments every 3-4 months to maintain results. During your initial consultation your doctor will recommend a bespoke treatment plan just for you.
How long does PRP Hair Restoration treatment take?
The procedure normally takes 60 minutes. Since PRP Hair Restoration is non-surgical and minimally invasive, you'll be able to resume your normal activities almost immediately.
Am I a candidate for PRP therapy?
PRP has several applications in cosmetic medicine, including hair restoration. If you're suffering from hair loss or thinning hair, PRP can help you achieve your aesthetic goals. Your doctor will assess your health history and hair to see if you are a good fit for the hair growth treatment.
Does PRP therapy hurt?
While everyone's pain tolerance differs, most patients can successfully complete their treatments without any problem. Your doctor will use a topical numbing agent to make the procedure more comfortable.
How many PRP sessions will I need?
There is no one-size-fits-all answer. PRP Hair Restoration may require 3-6 sessions to see a noticeable improvement in hair density and fullness. For PRP Microneedling Facial, typically 1-3 treatments may be sufficient to achieve smoother, plumper and more youthful-looking skin.
What is the price of our PRP Hair Restoration service?
Is financing available?
Financing is available through do Finance. Get affordable financing in 3-easy steps for any elective care procedures you want done. Visit www.dofinance.ca for more information.