What are dermal fillers?
Dermal fillers come in two varieties: semi-permanent and temporary. Temporary fillers such as Restylane®, Teosyal®, Juvederm®, Stylage®, and Prollenium® are made with hyaluronic acid, a sugar molecule that's naturally occurring in the body, particularly the skin. Hyaluronic acid is what gives the skin its suppleness, smoothness and a healthy glow.

Youthful skin is abundant in hyaluronic acid, which is why younger people have fewer lines and more volume. Over time, the skin's natural hyaluronic acid starts to decline, causing it to lose volume and start looking less youthful and plump.

Dermal filler injections can restore facial volume loss due to age. Additionally, fillers can be used to sculpt and correct facial structures to enhance a patient's appearance.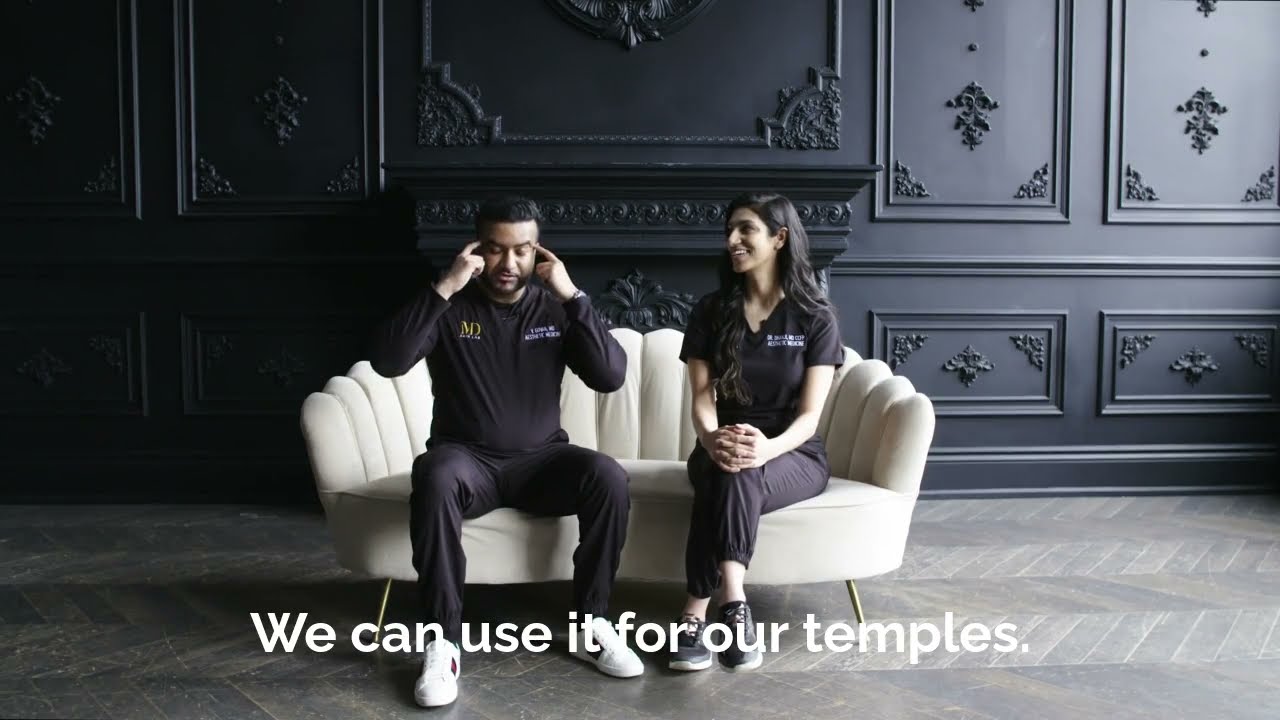 How do dermal fillers work?
Hyaluronic acid molecules can attract and retain 1000 times their weight in water. When injected under the skin, dermal filler gel can smooth lines and wrinkles, fill in hollow areas, lift sagging skin, rejuvenate the under eyes, and plump the lips.

Recent availability of high-tech HA materials made with denser cross-linked technology can be injected structurally along the jawline to mimic bone, in the nose area to raise the bridge or for chin augmentation.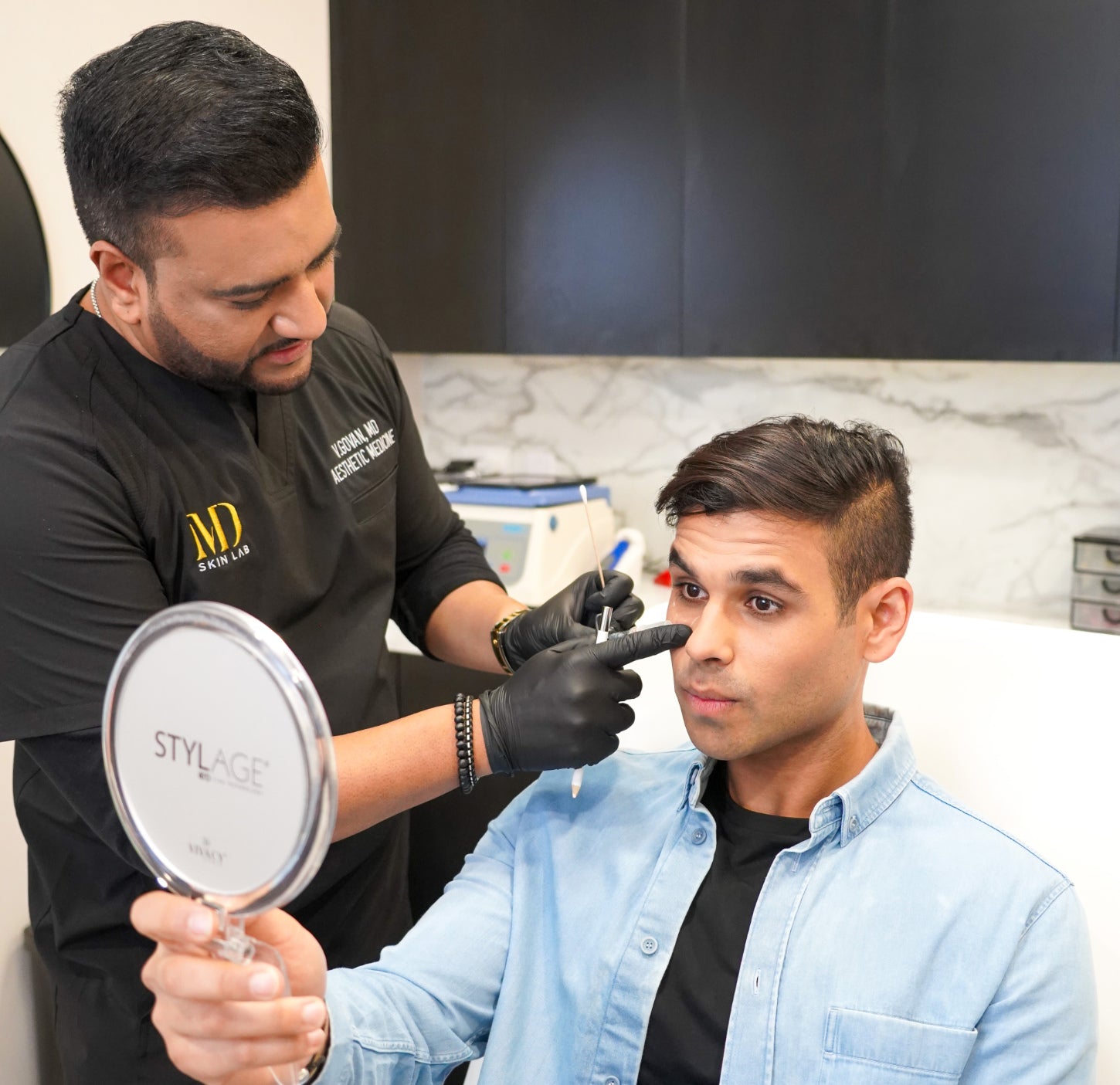 What areas can you treat with dermal fillers?
Lips
Cheeks
Tear troughs
Nasolabial folds (laugh lines)
Marionette lines
Jaw line
Chin
Horizontal neck lines
Acne scars
Temples
Plump skin texture
Frequently Asked Questions
Below are some common questions from our clients, if you have any other questions, please fill out the form below or send us an email at hello@mdskinlab.ca.
What does the procedure entail?
After a thorough assessment of your aesthetic goals, the injector administers dermal filler directly into the skin. Results can be seen immediately; however, since hyaluronic acid draws in water, it can take up to 2 weeks for the full plumping effect. Areas such as lips can experience considerable swelling so it may take up to a week to see the final outcome. The procedure normally takes 30-60 minutes.
Are dermal filler injections painful?
For most people dermal filler injections are very well tolerated. A topical anaesthetic can be applied to minimize pain and optimize patient comfort, particularly prior to performing lip injections.
Are dermal fillers such as Restylane®, Teosyal®, Juvederm®, Stylage®, and Prollenium® safe?
Yes. We pride ourselves on only using dermal fillers with a proven safety record and approved by Health Canada.

Hyaluronic acid is extremely safe because it occurs naturally in your body. There is very little risk of developing an allergic reaction. Even those with extremely sensitive skin can have hyaluronic acid injections. In the unlikely event that a patient would like to have their filler reversed, it can be instantly dissolved with the enzyme hyaluronidase.
What are some possible complications or side-effects?
Occasionally, minor and rare side-effects can occur, including:

- Redness at the injection site
- Bruising (this is minimized with the micro-cannula)
- Asymmetry or lumps
- Infection/inflammation
- Vascular occlusion/necrosis (extremely rare and can be reversed with hyaluronidase)

Your physician will review the possible side effects with you prior to your treatment.
How much does dermal filler cost?
Cost normally depends on the type and amount of dermal filler used. Another consideration is which area of the face you'd like to treat (e.g. cheeks, tear troughs or full face – a procedure known as the soft-lift).

During the initial consultation, your physician injector will create a bespoke treatment plan specifically for you and the exact cost of your treatments will be provided ahead of time. Keep in mind that our prices are competitive and your treatments will be performed by a highly skilled and experienced physician. For more informationview our service fees
Is financing available?
Financing is available through do Finance. Get affordable financing in 3-easy steps for any elective care procedures you want done. Visit www.dofinance.ca for more information.