Fat Dissolving Injections
(Lipodissolve/ Belkyra®/ Kybella®)
What is Lipodissolve/Belkyra?
Lipodissolve and Belkyra® are deoxycholic fat-dissolving injections that reduce subcutaneous fat, such as areas under the chin (also known as the double chin). Belkyra® is a minimally-invasive procedure approved by Health Canada to permanently treat stubborn fat cells, helping to achieve a slimmer chin profile and contour.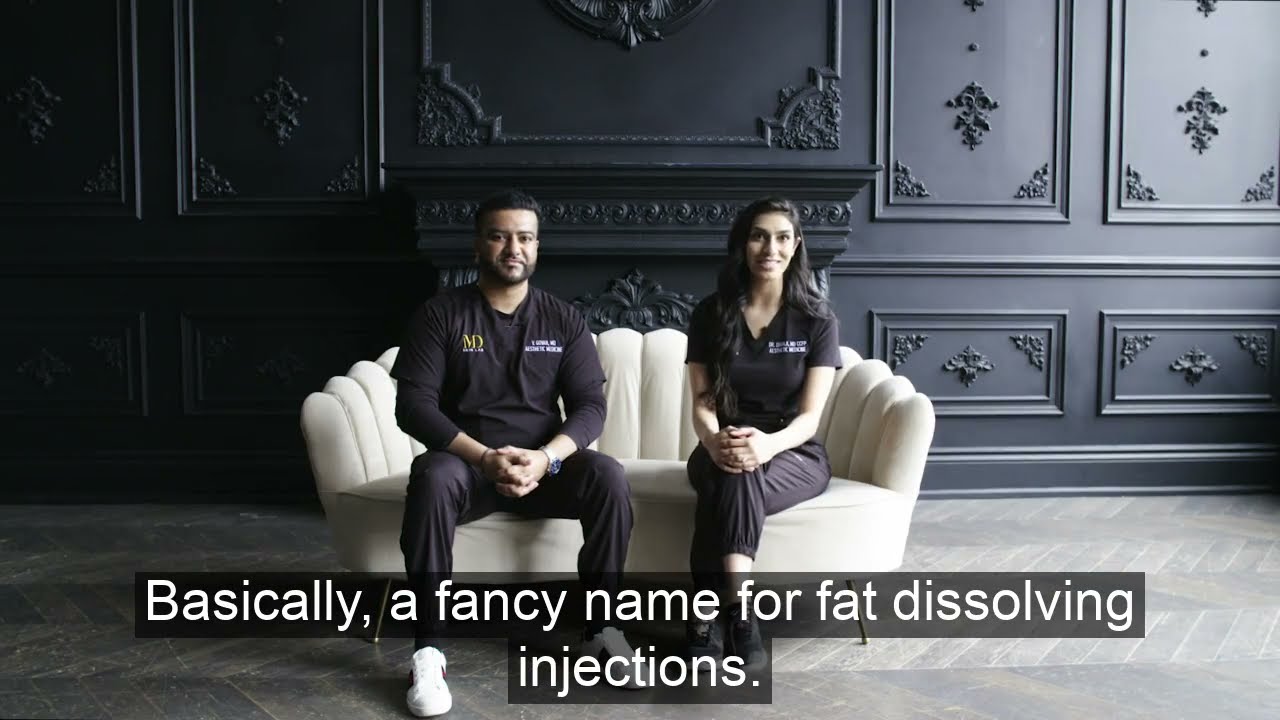 How Does Lipodissolve/Belkyra® Work?
Stubborn pockets of fat, such as submental fullness, can occur for several reasons. Weight fluctuations, aging, and even genetics can result in the accumulation of fat under the chin and other areas. Deoxycholic acid, a naturally-occurring molecule, is injected into stubborn pockets of fat to break down and dispose of unwanted fat cells at the treatment site.

Fat-dissolving injections are ideal for patients n who want to get rid of their double chin without going under the knife. A non-surgical alternative to chin liposuction, deoxycholic acid administered through a tiny syringe offers a safer option with less downtime. Another added benefit of fat-dissolving injections is a mild skin-tightening effect due to a boost in collagen production.
Frequently Asked Questions
Below are some common questions from our clients, if you have any other questions, please fill out the form below or send us an email at hello@mdskinlab.ca.
How long does it take?
Lipodissolve or Belkyra® treatments typically take 30 minutes. This includes marking the treatment area, numbing the area, and administering the injections.
How many treatments will I need for fat-dissolving injections?
The exact number of sessions required can vary from person to person and depend on the area being treated. Patients can expect anywhere from 3+ treatments to achieve the desired results.
How long do the results last/are the results permanent?
The results are usually permanent if the patient maintains their weight. Once the fat cells have been removed, they will not regenerate. However, remember that significant weight gain can affect your outcome. Continuing a healthy diet and regular exercise is recommended to optimize your results.
Is there any downtime?
It's normal to experience some swelling and discomfort at the injection sites for up to two weeks.
Is it painful?
Some patients describe a warming sensation during the injections. This is temporary and normally subsides shortly after treatment. Subsequent discomfort can be due to swelling of the area. Patients are usually able to tolerate the discomfort without concern.
What are the side effects of fat-dissolving injections?
These include swelling, tenderness and redness. Some patients have also reported bruising and numbness. These minor side effects gradually resolve on their own within two weeks.
What is the price of our deoxycholic acid injection service?
Is financing available?
Financing is available through do Finance. Get affordable financing in 3-easy steps for any elective care procedures you want done. Visit www.dofinance.ca for more information.