Anti-wrinkle Injections
(Botox, Dysport, Xeomin, Nuceiva)
What is Botox?
Neuromodulators such as Botox®, Dysport® ,Xeomin®, and Nuceiva®, are a class of pharmaceutical medications derived from the Botulinum bacteria. The active ingredient is a Health Canada approved purified protein that's used in cosmetic applications to smooth the skin and soften dynamic lines and wrinkles.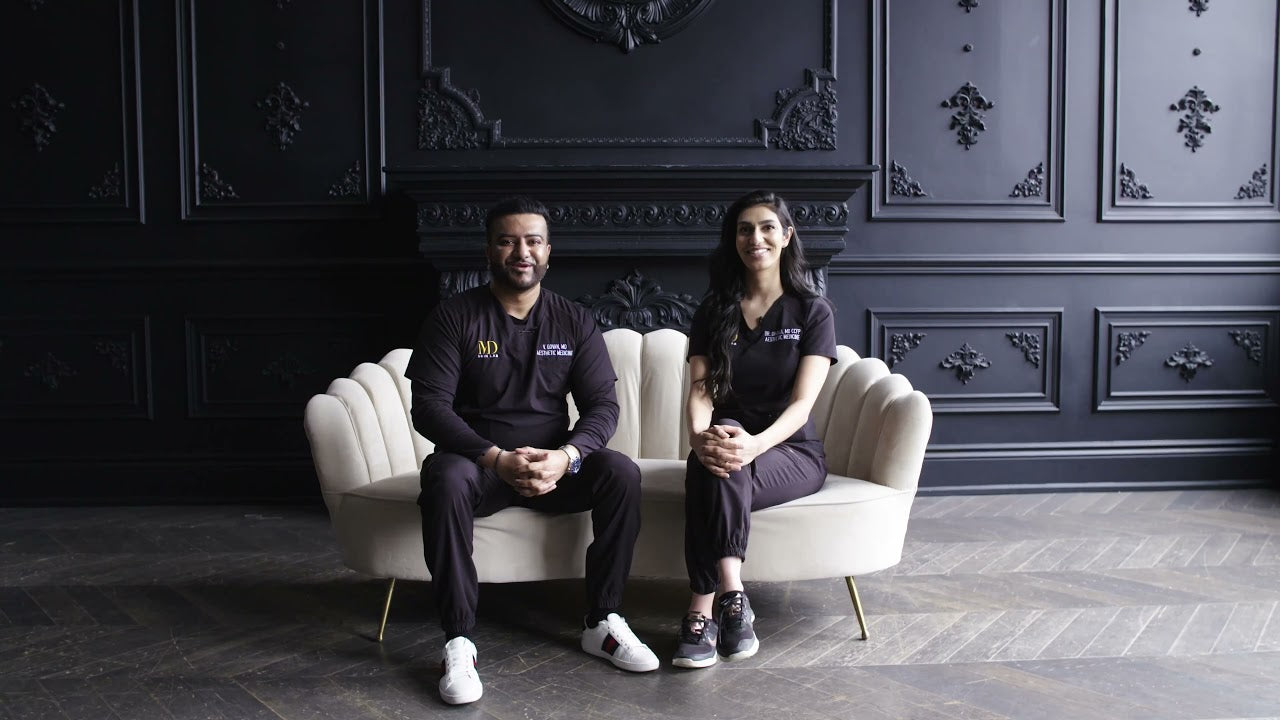 How does Botox work?
Dynamic wrinkles are the creases we normally see around the eyes, forehead and frown area. These are the signs of aging caused by years of making facial expressions such as smiling, laughing and frowning.

When we're young, our skin is supple and has excellent elasticity. Few lines are visible, or they disappear completely as soon as we stop making facial expressions. As we get older, however, facial wrinkles remain visible even when our face is at rest. These are called static lines.

Neuromodulators or "anti-wrinkle injections" work by temporarily decreasing the communication between nerve cells, preventing facial muscles from contracting. As the muscles relax, the skin takes on a smoother and more youthful appearance.

In most cases, neuromodulators work best on dynamic lines and wrinkles. Although with regular use, even static lines can improve over time, becoming softer, and less visible.
What areas can you treat with Botox?
Forehead
Frown lines (number "11's" or glabella)
Crow's feet
Brow lift
Bunny lines (side of nose)
Lip Flip
Chin dimpling
Gummy smile
Crepey neck
Masseter muscle for jaw clenching
Migraines
Excessive sweating (hyperhidrosis)
Frequently Asked Questions
Below are some common questions from our clients, if you have any other questions, please fill out the form below or send us an email at hello@mdskinlab.ca.
What will happen if I stop getting Botox®, Dysport®, Xeomin® or Nuceiva® injections?
Once the neuromodulator has worn off, the muscle movement is restored and your skin's appearance will revert to its pre-treatment condition.
How often should I have treatment?
Since results vary from patient to patient, your physician will plan your next appointment based on your previous results and aesthetic goals. Generally, we recommend having maintenance treatments every 3-4 months.
How quickly will I see results?
You may begin to notice some improvement in lines and wrinkles within 24 to 48 hours; however, full results can take up to 14 days. If it's your first time, remember that it's normal to require a touch-up as your physician fine-tunes your exact dosing.
How long do the results last?
Depending on the brand and other factors, the effects of neuromodulators generally last between three to four months. For smooth, wrinkle-free skin, we recommend having maintenance treatments done every three to four months.
What is the difference between different types of neuromodulators, ie BOTOX® vs. Dysport®?
All neuromodulators such as BOTOX® and Dysport® are neurotoxins that block muscle contractions. The difference between different brands can be in the molecule size and potency of the proteins. Other than these minor differences, all neuromodulators can be used to safely and effectively smooth lines and wrinkles.
When should I start using botox for anti-aging?
Twin studies have shown that neuromodulators have a powerful preventative effect on skin aging. Although there's no right or wrong age to start, we recommend having preventative treatments in your late 20s or early 30s. If you already have dynamic or static lines, anti-wrinkle injections can help smooth the skin and prevent new lines from forming.
What are neuromodulators such as Botox®, Dysport®, Xeomin® or Nuceiva® side effects?
Although considered extremely safe and effective, it's possible to develop rare and temporary side effects such as:

- Droopy eyelid
- Headache
- Flu symptoms
- Weak muscle
- Pain/ache

Your physician will review the possible side effects with you before your treatment.
What is the price of our anti-wrinkle injection service?
Is financing available?
Financing is available through do Finance. Get affordable financing in 3-easy steps for any elective care procedures you want done. Visit www.dofinance.ca for more information.