Laser Hair Removal
(Diolaze/ DiolazeXL)
Are you tired of frequently shaving or waxing your hair? If you feel frustrated at constantly having to deal with regrowing hair, especially in unwanted areas, we have an effective and long-lasting solution for you! At MD Skin Lab in Toronto, we provide laser hair removal through a state-of-the-art laser called DiolazeXL.

Laser hair removal involves using a high-energy laser to destroy hair follicles, reducing hair growth. It is a popular treatment that removes unwanted hair and helps with other issues like ingrown hairs that can cause hyperpigmentation, particularly in individuals with deep skin tones. It is essential to consult a qualified professional at MD Skin Lab to determine whether these technologies suit your skin and hair type. Keep reading for more!
Laser Hair Removal Explained
What is Laser Hair Removal (DiolazeXL)?
At MD Skin Lab, we utilize an advanced and widely recognized hair removal technology called DiolazeXL. This state-of-the-art and gold-standard technology represents the latest innovations in hair removal and is highly effective at eliminating unwanted hair. DiolazeXL targets hairs at the root. It is a diode laser with a more prominent spot size and higher energy to provide faster and more efficient hair removal. The larger spot size allows more hair to be treated at once, while the higher fluence means the hair follicles are targeted more effectively, resulting in better hair removal.
Who Is It For And Am I A Candidate?
DiolazeXL is ideal for anyone who wants to get rid of unwanted hair, especially those stubborn ones. It is a long-term investment that would decrease constant shaving or go through painful waxing. The treatment is suitable for all skin types. Although, please keep in mind that the number of sessions required to achieve desirable results will differ based on each individual, their skin type, the area treated and the pattern of hair growth.

The best candidates for DiolazeXL are individuals that seek long-lasting hair reduction. Be sure to consult with your technician at MD Skin Lab.
How Does Laser Hair Removal (DiolazeXL) Work?
When using DiolazeXL, a special handpiece directs a beam of laser energy into the hair follicle. The pigment inside the hair follicle absorbs the powerful heat energy, becoming damaged in the process. With enough sessions, the hair follicle is entirely destroyed, which slows down hair growth and often stops it altogether. DiolazeXL is effective and powerful enough to treat the most stubborn hairs while using a gentle approach that works for most skin types.

It's essential to prepare yourself before your laser hair removal appointment. Some preparation steps include:
Avoiding sun exposure
Avoiding self-tanner and tanning beds for at least six weeks before the treatment
Shaving the treatment area before the procedure
Avoiding using hair removal products
A few days prior to the treatment, stop using active ingredients such as glycolic and salicylic acids, benzoyl
What Body Parts Can Be Treated With Laser Hair Removal?
Diolaze XL can treat most areas of the body. In addition, even the most sensitive areas can be targeted to reduce hair safely and consistently. Treatment areas include:
Bikini
Underarms
Face
Legs
Arms
Back
Shoulders
Chest
Abdomen
Neck
Chin
Hands
Feet
Beard
Is Laser Hair Removal Safe
Laser hair removal with DiolazeXL is safe when performed by a trained technician, like at MD Skin Lab. An advantage of this treatment is that there is minimal downtime. It is important to discuss your medical history and the potential risks and benefits with your technician before undergoing treatment.
What Will Occur During A Laser Hair Removal Appointment?
When you arrive for your appointment, your trained technician will greet you and take you into the treatment room. Your technician will apply gel to the treatment area, and you will be provided with protective eyewear to wear during the procedure.

Then, the technician will use a handheld laser device to deliver light pulses to the targeted area(s). You may experience some discomfort during the procedure, but the cooling tip technology makes the treatment more comfortable and is typically well-tolerated by many of our patients. With DiolazeXL, treatment times tend to be shorter due to the larger spot size, which means you'll be able to complete your appointment quickly.
How Long Will A Laser Hair Removal Appointment Take?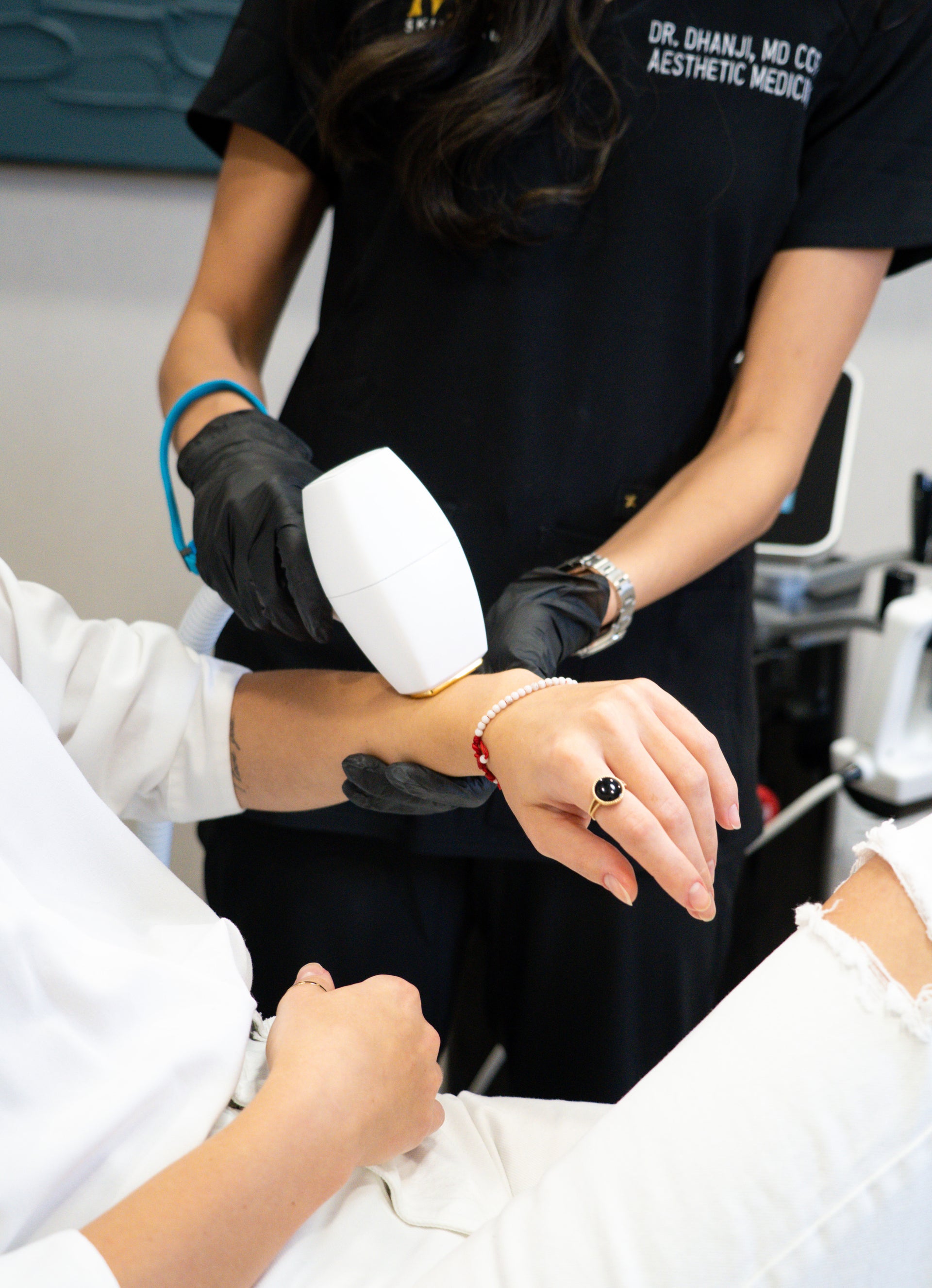 Your appointment can last 10 minutes for a small area and up to 2 hours for a full body treatment, depending on the area(s) treated. The timing can work well during a lunch break!
What Does The Treatment Feel Like?
TAs DiolazeXL does its job of removing unwanted hair, as it uses cool tip technology during the treatment, which means minimal discomfort is associated! You may encounter a mild, warming or slight snapping sensation as the laser passes over the skin.
What Is The Downtime After Laser Hair Removal?
With DiolazeXL there is virtually no downtime post-treatment, and you can return to your normal activities immediately. We recommend avoiding very hot environments (saunas and steam) and direct sun exposure, such as steam rooms or saunas. Patients should use suitable sun protection and broad-spectrum SPF 30+. Additionally, avoid applying harsh creams or lotions to the treated areas until the following day.
How Many Appointments Will I Need And When Will I See The Results?
The number of appointments you need depends on multiple factors, such as the thickness and colour of your hair, the type of area being treated and the individual's skin tone. Our clinic recommends 6-9+ sessions. We recommend spacing treatments out 4-6 weeks apart to allow the hair to regrow.

It's important to note that areas of hormonal hair growth, like the face and the other body parts, may require additional treatments and maintenance treatment.

Most patients start to notice decreased hair growth after 2-4 sessions to ensure the best results. Even though you will notice a reduction in body hair reasonably quickly, it's important to complete 6-9+ sessions to catch the hair follicle in all stages of its growth cycle.

Once a patient has achieved their desired level of hair reduction, the results are long-lasting; this can be anywhere from several years to permanent. However, it is essential to note that new hair follicles can become active over time, with some hair growth returning. Additionally, areas of hormonal hair growth such as the face, armpits and bikini areas can have regrowth, so you may need yearly touch-ups.
Will I Experience Any Side Effects?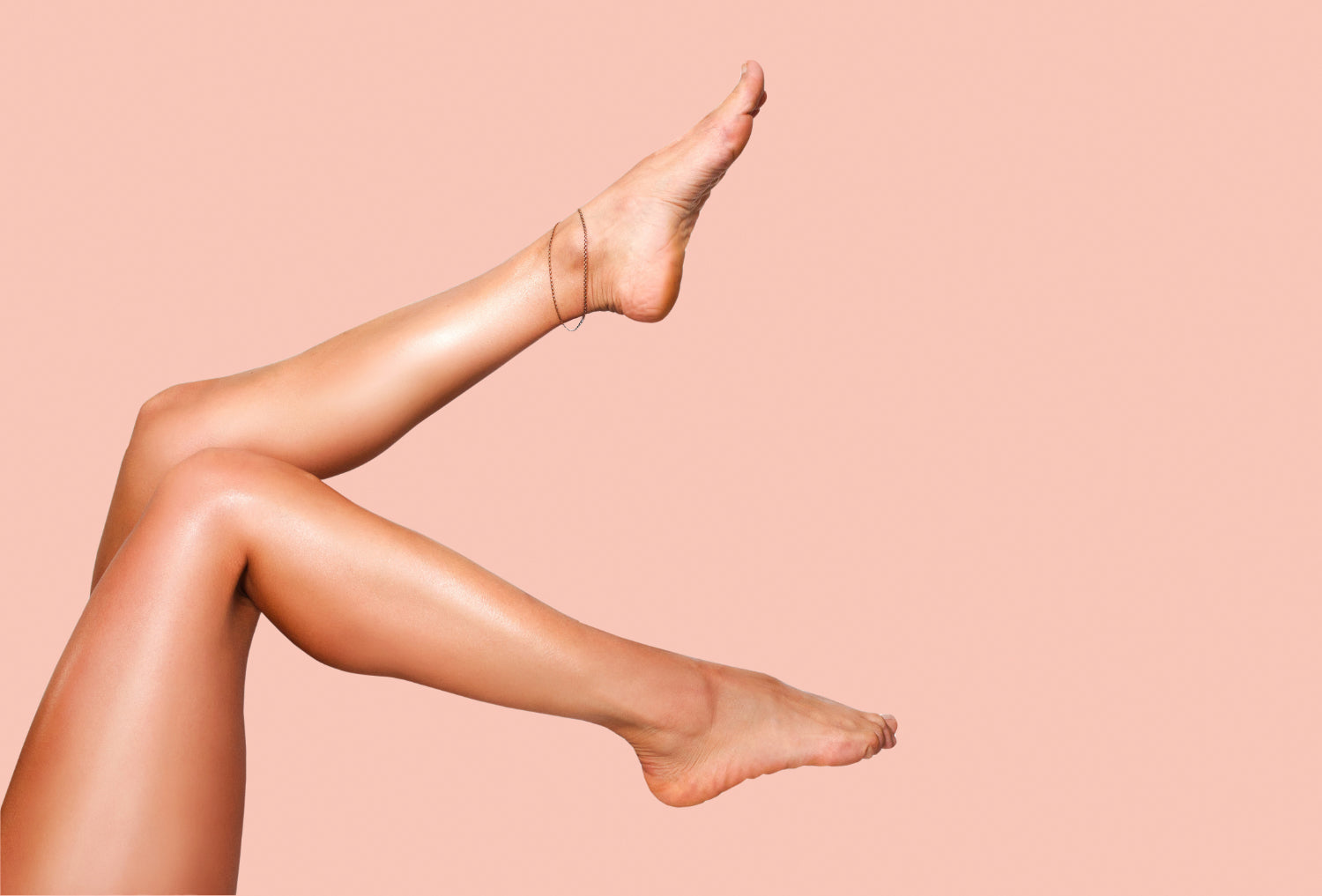 One of the most significant advantages of DiolazeXL hair removal is its minimal downtime, as it is gentle on the skin. After the procedure, patients may experience bumps and sensitivity with some pink tones on the treated area(s). These side effects typically subside within a few hours to a few days after the treatment. We recommend avoiding direct sun exposure and using medical-grade SPF regularly, especially with direct sun exposure for the week after your treatment.
How Much Does Laser Hair Removal Cost?
Please take a look at our service fees for more information. Buy now, pay later with do Finance. Get affordable financing in 3-easy steps for any elective care procedures you would like done. Visit www.dofinance.ca for more information.