Are you in pursuit of youthful and firm skin? Skin tightening may be the answer you've been looking for! Forma by InMode is an effective solution to reversing the signs of aging on your face. At MD Skin Lab, we use the safe, non-invasive treatment by InMode Technologies. This radio-frequency technology is used to smooth, firm and tighten your skin and help with puffy skin, resulting in a revitalized, youthful glow.

MD Skin Lab offers the excellent option of a Red Carpet Forma Facial, where we thoroughly cleanse and use Forma to snatch the jawline and a lymphatic massage. This non-invasive, advanced procedure gently sculpts and refines your jawline, using radiofrequency energy to stimulate collagen production for a firmer, youthful appearance. We include a soothing lymphatic massage to enhance the overall indulgence, promoting drainage and reducing puffiness. Let's get into the specifics!
What is Forma?
As many of us have experienced, the initial signs of aging become noticeable as the skin loses its firmness and elasticity, resulting in sagging, puffiness, wrinkles, and fine lines. Wrinkles can appear all over the face and body – from arms to legs and beyond – mainly because the skin isn't as snug over the tissues underneath. That's where skin-tightening treatments step in. Forma by InMode is an excellent solution that maintains your skin's youthful tautness. It's designed to enhance skin texture, tone, and overall appearance by restoring its firmness using radio-frequency energy.

Let's talk about how Forma by InMode works. As we know, collagen is a critical component of skin health and essential for maintaining skin elasticity. Collagen enables the skin to stretch and bounce back effortlessly, keeping wrinkles and fine lines at bay during youth. However, as you age, the body's collagen production reduces. Skin Tightening by InMode addresses this issue at its root.
What Is The Red Carpet Forma Facial?
The Red Carpet Forma Facial is a premium skincare treatment offered at MD Skin Lab. This exclusive facial experience begins with a thorough cleansing to prepare the skin. The treatment uses Forma technology, a non-invasive procedure that uses radiofrequency energy to stimulate collagen production, resulting in a firmer, more youthful appearance. The focus is sculpting and refining the jawline, creating an elegant profile. As an added indulgence, a soothing lymphatic massage is often included, promoting drainage and reducing facial puffiness while enhancing overall circulation. Tailored to individual needs, the Red Carpet Forma Facial is the epitome of luxury and rejuvenation, delivering remarkable results and a radiant, confident complexion!
Who Is It For And Am I A Candidate?
At MD Skin Lab, we understand that beauty knows no age. Forma by InMode is a versatile solution for individuals seeking to tighten and revitalize their skin. Our service providers specialize in tailoring Forma treatments to your unique needs, whether you want to address signs of aging or desire to preserve your skin's youthful allure.

Forma is made for patients who envision a future of tighter skin! Our medical aestheticians expertly perform Forma by InMode to counteract sagging, wrinkles, and diminished elasticity. Whether you are interested in addressing signs of aging or want to preserve your skin's youthful glow, Forma is a great treatment option to achieve timeless beauty.
Forma uses A.C.E. (acquire, control, extend) technology, an embodiment of precision and efficacy. Our medical aestheticians at MD Skin Lab administer the treatment precisely and skillfully. Using radio-frequency energy from the technology, the focus is to increase collagen production by penetrating deep into the skin layers. All this results in tightened skin.
What Areas Can Be Treated With Forma?
MD Skin Lab recommends using the treatment across various areas where you experience wrinkles, fine lines and creases. This can include the following:
Face (Eye Area, Jowls)
Neck
Under the Chin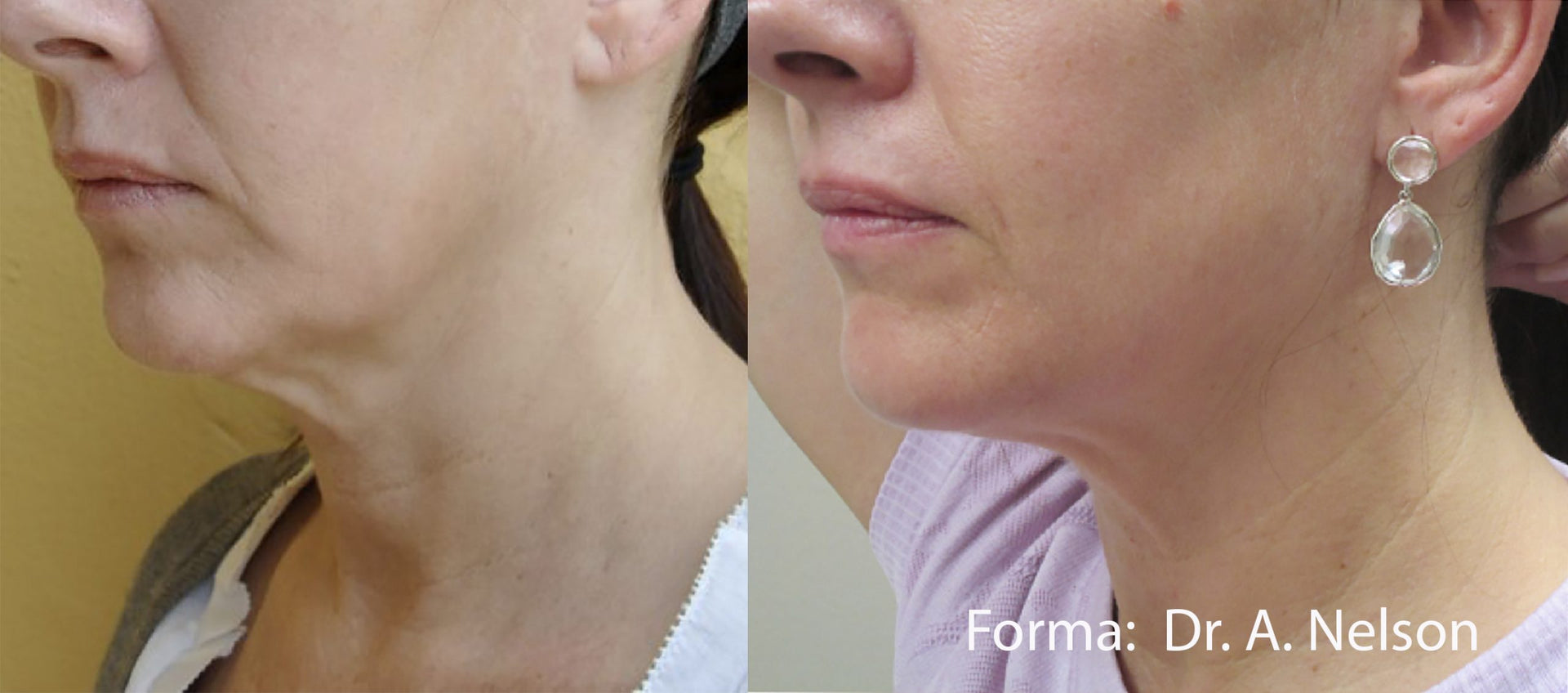 Forma is a safe treatment, as it is Health-Canada and FDA-approved. It is also a non-invasive treatment administered to help stimulate collagen production. Additionally, your medical aesthetician is fully trained, ensuring a safe process.
What Will Occur During A Forma Appointment?
The first step of your appointment is a consultation, where your medical aesthetician will greet you at MD Skin Lab. During the appointment, you will be asked about your medical history or any medications you are taking, as they may play a role in your treatment plan. Next, your medical aesthetician will examine the areas you want to treat with Forma. From there, the treatment will be administered by your medical aesthetician. You will receive after-care instructions.
How Long Will A Forma Appointment Take?
The length of time for your appointment depends on how many areas you are getting treated with Forma. It is a great "lunchtime treatment," as it is quick with no downtime required.
What Does Forma Feel Like?
At MD Skin Lab, comfort is a priority to ensure a great experience at our Toronto medical spa. During the appointment, you will experience a warm, painless sensation; the overall session is quite relaxing.
What Is The Downtime After A Forma Treatment?
There is no downtime after a Forma treatment. You may experience some redness, which will subside within a few hours. Additionally, you can also wear makeup right away after the treatment.


How Many Appointments Will I Need, And When Will I See The Results?
We recommend 6 to 8 treatments at MD Skin Lab within two months, ensuring beautiful, long-lasting results. Following this, you will be recommended to undergo maintenance treatments every 2 to 3 months. However, this depends on your skin and the level of wrinkles, fine lines and creases. MD Skin Lab will provide a tailored plan to achieve your desired skin results.

Most patients can see immediate lifting up to 72 hours after one treatment. For this reason, some patients decide to do this treatment before a big event. We recommend committing to 6 to 8 sessions of your Forma treatment to see longer-lasting results. Your medical aesthetician will tailor your plan to help you reach your desired skin goals.
What Is The Difference Between A Forma Treatment And A Red Carpet Forma Facial?
The Forma Treatment is a comprehensive regimen recommended as a series of 6-8 sessions, ideally conducted once a week. This treatment uses Forma technology, a non-invasive skin-tightening procedure utilizing radiofrequency energy to stimulate collagen production, resulting in a firmer, more youthful complexion. On the other hand, our Red Carpet Forma Facial is an exquisite, event-ready skincare indulgence. This facial combines the benefits of Forma technology with the added luxury of a soothing lymphatic massage and carefully selected facial products. It's designed to prepare you for a special occasion, leaving your skin radiant and revitalized. While the Forma Treatment focuses on long-term skin enhancement and rejuvenation, the Red Carpet Forma Facial is perfect for those seeking immediate results and a vibrant, confident look before a big event. Whichever you choose, our expert skin specialists at the clinic are dedicated to providing exceptional care tailored to your unique needs and goals, ensuring you achieve the beauty you desire!
What Is The Difference Between Forma And Morpheus8?
When comparing Forma and Morpheus8, it's essential to understand their distinct treatment approaches. Forma and Morpheus8 offer diverse solutions for various aesthetic concerns. Forma, known for its gentler approach, is favoured for skin tightening and rejuvenation. Morpheus8, while effective for these purposes, is often chosen when patients seek more intensive, precise, and versatile treatments. The level of invasiveness varies between the two, with Forma being less invasive, providing clients with choices that align with their preferences and specific cosmetic goals.
Will I Experience Any Side Effects?
You may experience redness during your appointment due to the warmth of the radio-frequency energy. However, this redness will subside within a few hours.
How Much Does Forma Cost?
Please take a look at our service fees for more information. Buy now, pay later with do Finance. Get affordable financing in 3-easy steps for any elective care procedures you would like done. Visit www.dofinance.ca for more information.