About Us
Welcome to MD Skin Lab. We're a Toronto-based cosmetic clinic that's owned and operated by physicians. All our non-surgical and minimally-invasive procedures are delivered by a team of aesthetic physicians who are focused on the patient's comfort, health, and safety.

At MD Skin Lab we celebrate each person's unique individuality by offering a bespoke approach to aesthetic treatments. Our skilled physicians are meticulous in maintaining facial balance and proportion, always striving for a natural and beautiful result.

Our clinic specializes in highly sought-after modalities such as dermal fillers, neuromodulators, fat-dissolving injections, hair restoration and PRP microneedling. Whether patients are looking to soften lines and wrinkles, firm sagging skin, or achieve a fuller head of hair, we help each person reach their aesthetic goals in a professional manner and luxurious environment.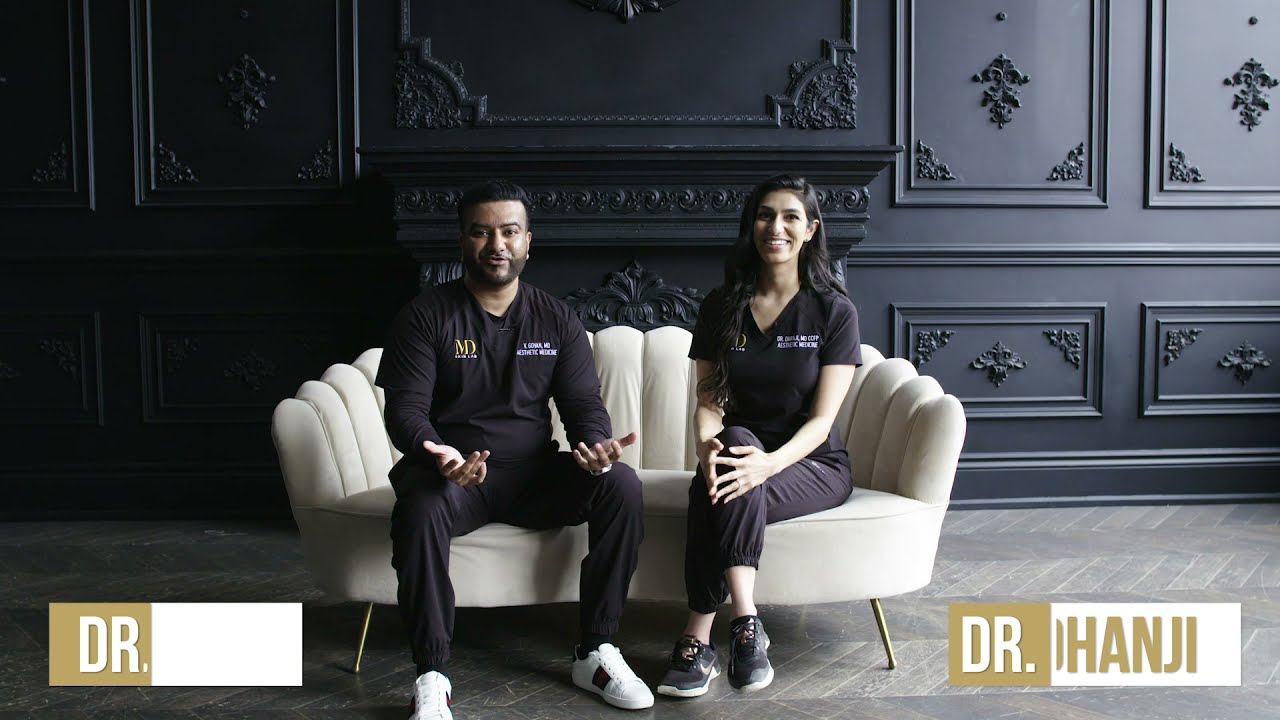 Meet Our Founding Physicians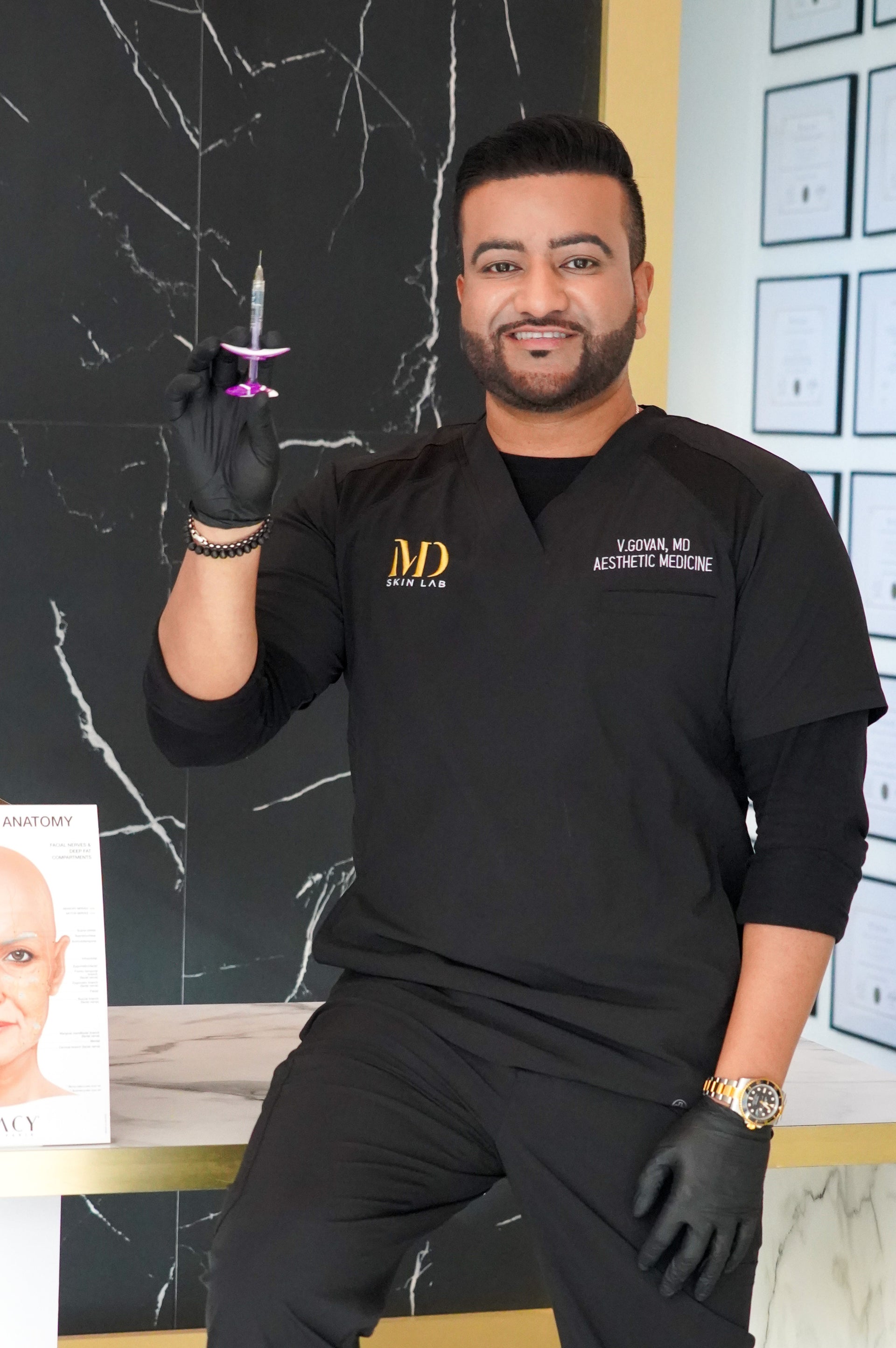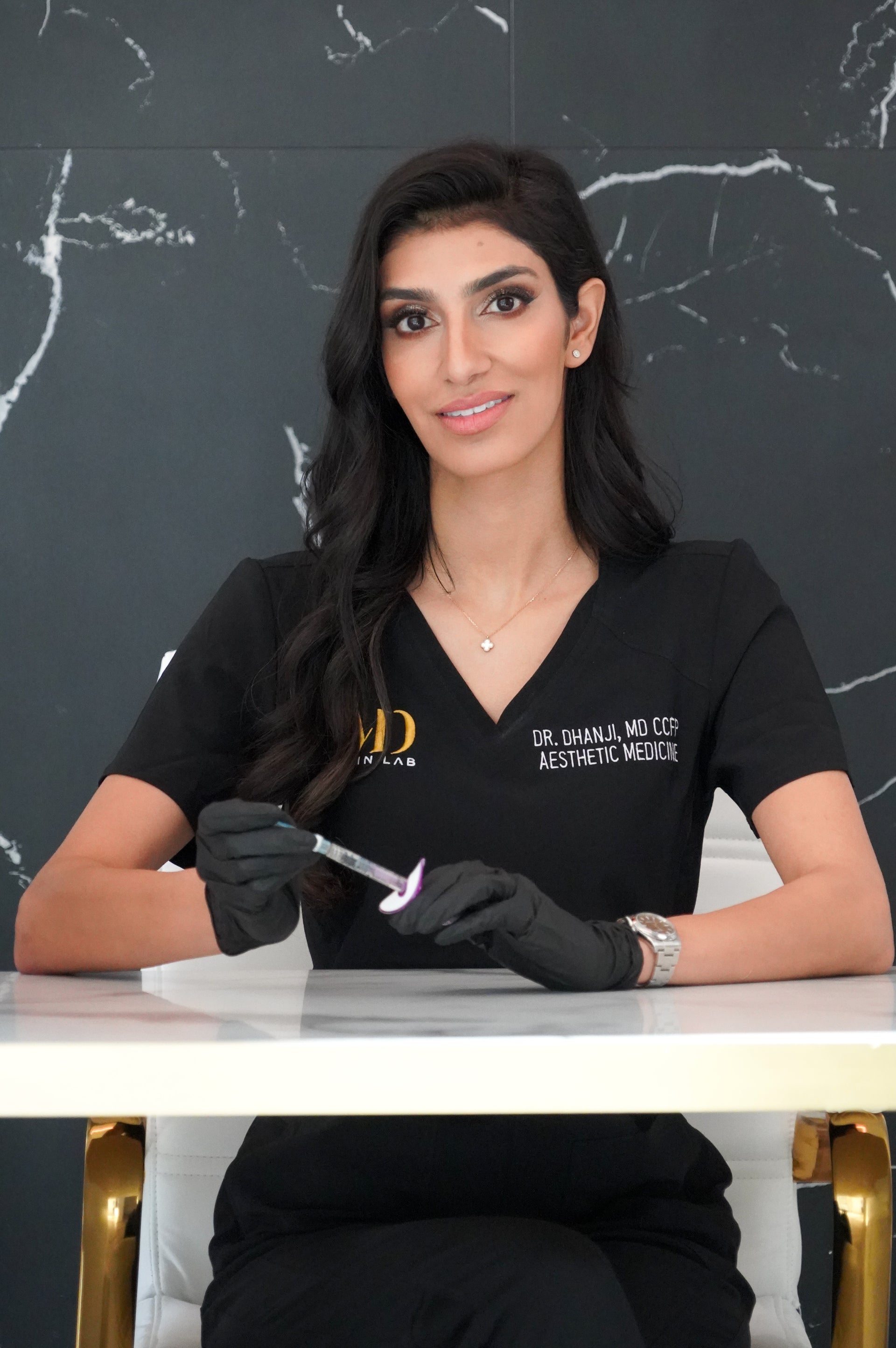 Vishaal Govan, MD/MBA

Vishaal Govan received his undergraduate degree at York University and went on to complete his medical training in the United States. He completed his clinical training in Chicago, USA, and continued his education by pursuing an MBA degree upon his return to Toronto, Canada.

⁠He is board certified in advanced cosmetic medicine procedures through The Canadian Board of Aesthetic Medicine. He believes in a natural approach to Aesthetic Medicine and loves the transformative power that can be achieved through non invasive procedures. ⁠His passion for medicine, art, fashion and aesthetic beauty combined, allows him to achieve natural results that harmoniously balance art and medicine.

He believes in preventative medicine as a whole and is additionally currently enrolled in a Lifestyle Medicine program through Harvard Medical School.
Dr. Soreya Dhanji, MD CCFP

Dr. Soreya Dhanji received her Bachelor of Science degree in Medical Science from The University of Western Ontario. She went on to complete her Medical Doctorate and Family Medicine residency from the University of Calgary School of Medicine. She is a Licentiate of the Medical College of Canada and a family physician with the Canadian College of Family Physicians.

Dr. Dhanji is one of the founding Medical Directors at MD Skin Lab where she currently practices with a focus on non-surgical cosmetic medicine. In addition to practicing Family Medicine, she is certified through The Canadian Board of Aesthetic Medicine for advanced medical aesthetic procedures.

Dr. Dhanji uses both medical & artful techniques for a natural approach to cosmetic medicine. She practices a conservative approach to aesthetics where every patient feels more confident & powerful after their appointment. Dr. Dhanji believes that an educational, safe, & personalized approach to medical aesthetics is central to each patient visit.
Dr. Dhanji and Dr. Govan have completed the following certifications in medical aesthetics through the Canadian Board of Aesthetic Medicine:
Advanced Injector Botox®
Forehead and Temple Rejuvenation
Mesotherapy
Advanced Injector Dermal Fillers
Medical Skin Treatments and Chemical Peels
Sclerotherapy
PRP Facial Microneedling
Cosmetic Dermatology
Laser Training
PRP Hair Restoration
Non-surgical Rhinoplasty
IV Nutrition Therapy




We strive for 5 star service
I love seeing Dr. Dhanji and Dr. Govan. They never pressure me into getting any procedures and have always made sure I'm informed about what it is I am doing. I have opted to go for a natural look and people are always surprised to learn that I have Botox (forehead) undereye filler and lip filler. It seriously looks that good. Dr. Dhanji and Dr. Govan are the only people I trust with my face.
☆ ☆ ☆ ☆ ☆
Ava W.
Dr. Dhanji and Dr. Govan are amazing. Super knowledgeable and thorough. They're so kind and you can tell they care about making their patients feel comfortable. It's clear they're experts in their field and it was easy to trust them!
☆ ☆ ☆ ☆ ☆ Catherine D.
Amazing experience each time! Great doctors who care about their patients....they make u feel welcome, answer any question u have and provide detailed explanations and they never push anything u don't want. You feel so welcomed the moment u meet them! And their work is absolutely amazing! I can't recommend them enough. Top notch!!!!
☆ ☆ ☆ ☆ ☆
Abby S.
I would highly recommend Dr. Dhanji and Dr. Govan at MD Skin Lab. I was extremely nervous before getting my treatment, but they took the time to explain everything in detail and made me feel comfortable every step of the way. They really take their time with you and answer all your questions to ensure you are at ease. It's reassuring to know you are in the hands of qualified physicians as well!
☆ ☆ ☆ ☆ ☆
Julie E.
It's been two weeks since my first ever Botox with the talented Dr. Dhanji and Dr. Govan. What an amazing team they are. They explained everything in great detail and were so patient with the questions I asked. I'm so happy with the results, and it looks so natural ( which is important to me) Thanks for the great service! I'll be a customer as long as I live in Toronto!
☆ ☆ ☆ ☆ ☆
Dani B.
I had and continue to have such pleasant experiences at MD Skin Lab. Dr. Dhanji's consultation provided me with all the confidence to make an informed decision, which was only made easier by the fact that both Dr. Dhanji and Dr. Govan are physicians. They are extremely professional and knowledgable, who genuinely care about your needs. Having lived with ongoing, thunder-like migraines, I was incredibly thankful for the Botox treatments that have made a world of difference. If you're like me and have tried everything else that's failed, I urge you to book a visit!
☆ ☆ ☆ ☆ ☆
Minnie S.
I am absolutely blown away by the incredible talent, knowledge and professionalism of Dr. Dhanji and Dr. Govan. They provide a tailored experience like no other and make you feel comfortable the entire time. Every treatment I have had has been exceptionally informational and always exceeds my expectations. The only place I trust for medical cosmetics!
☆ ☆ ☆ ☆ ☆
Pfeiffer E.
Amazing experience and even better results! Dr. Dhanji and Dr. Govan listen to what you want as a client and give professional advice tailored to what is best for you. Through every step of every visit, they gave in-depth explanations and answers that made me feel comfortable and confident in any decisions I made with them. They are knowledgeable on the most current cosmetic procedures and techniques. They worked with me to dissolve lip filler from previous years and they injected new filler to give me the most natural-looking perfect lip plump! Their precision, attention to detail and passion in what they do should be highly coveted in this field. I highly recommend MD Skin Lab and will never go anywhere else!
☆ ☆ ☆ ☆ ☆
Fahrin K.